What a wonderful breathe of fresh atmosphere! #punintended

Aurora Rising is the first book in a new series, released May 2019, and it's written by the awesome writer duo – Jay Kristoff and Amie Kaufman!!!!

They've done another series in the past, you maybe have heard of it…. Illuminae. *cue excited cheers and gasping*
Sadly, I have not read Illuminae as of yet, but I probably will ASAP after loving this book. <3 <3
I'll start by saying I do love space novels. I also love "campy/us against the world" novels. This hits both of these points and delivers an action packed story. If you're a fan of the gritty team of Firefly or of the sassy team of Buffy's Scooby Gang, this may be a good choice for you.
Okay, let me stop gushing and get going on the real review. Ahaha 😉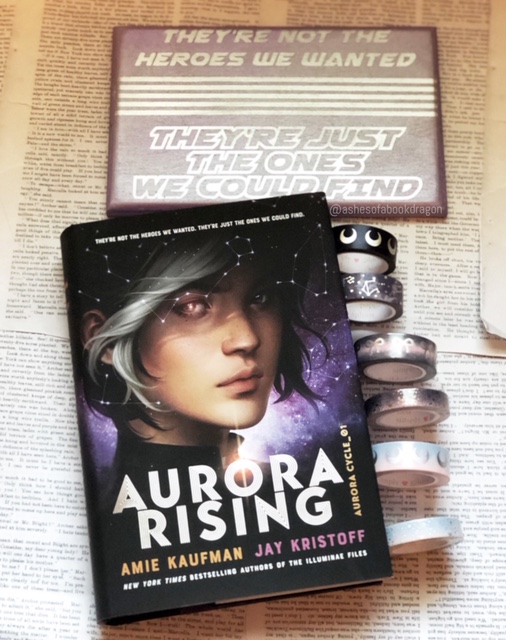 Where to even start with this one. This book follows the story of a girl waking up in a universe hundreds of years later and being told she has lost everything. Lucky for Aurora though, she didn't come unprepared. (#nospoilers muahaha) Not only that, but she's equipped with the BEST team in space. For real, I would love this team as my back up and my #rideordie buddies. The authors have done an amazing job setting up the plot and I warn you now, you will be wrecked. Just brace for impact.
With this first book doing a solid build of foundation, I was a little concerned with character development. Full disclosure, the beginning is kinda slow on characters as a whole. You meet everyone in time but to be honest, Fin steals the show. Fin steals it and holds the reader close throughout the book. You get nice glimpses of Kal, Aurora, Tyler, etc… but middle book is mostly Fin. This is not a bad thing at all. He's written beautifully. There's only one character I wasn't thrilled with but I won't say so you can make your own decisions. Overall, I love this #Squad312 and I'm pulling for them in the next book.
This is a solid book one. The writing is everything my little star wars star trek firefly space loving heart could hope for in a book. It's a fun, fast, action packed read that keeps you engaged until the last page. (Then you wish there was more and you want to throw the book….but don't haha.) The dialogue is everything and I was laughing out loud at scenes and my emotions were all over the place for the feels.
Overall, I would recommend this book to anyone that's ready for a fast paced Sci-Fi read. This book won't let you down and is an excellent summer read.
Overall Rating: 4.5 Stars
Plot: 4 Stars
Character Development: 5 Stars
Dialogue: 4 Stars
Writing: 5 Stars
Happy Reading!
Ash~