The perfect way to kick off the Halloween season is with Three Kisses, One Midnight by Roshani Choksi, Evelyn Skye, and Sandhya Menon. It has amazing happy Halloween vibes with Happily Ever After tones.
This novel is a stand alone anthology with stories from 3 amazing authors.
Each story follows a new main character but takes place on the same night. (You probably guess it.. midnight plays a factor haha)
Brief Synopsis:
The town of Moon Ridge has its 400th year anniversary this Halloween. Everyone knows the tale, the young woman who perished at the stroke of twelve that very same night, losing the life she was set to embark on with her dearest love. One day a year the Lady of Moon Ridge descends from the stars to walk among the people of Moon Ridge and show them their hearts desires.
Onny who believes in the stars, Ash who is skeptical but brave, and True who is skeptical and reluctant all have their chance… this year… on the 400th anniversary.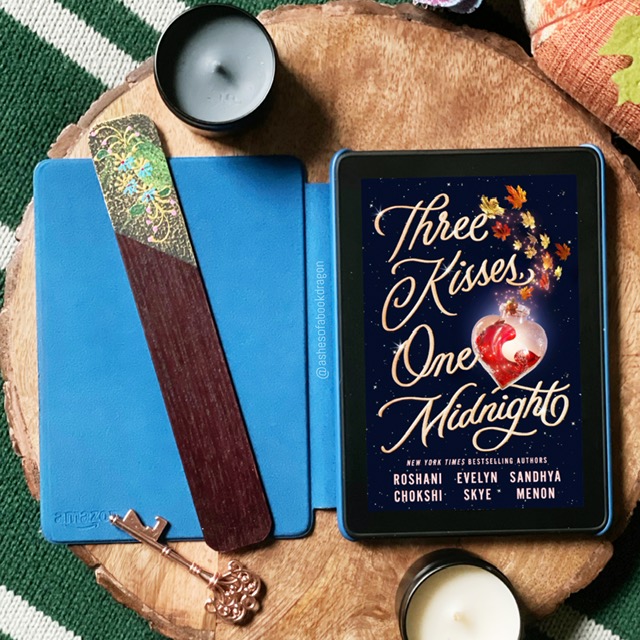 TO THE REVIEW
The plot as a whole for this novel is fun and adventurous. It has wonderful Halloweeen vibes and the atmosphere is full of whimsy and magic. The first story has a bigger burden of setting the foundation so it is a bit slower. However, I really enjoyed Onny's story and self realization. I feel like she is like most of us in high school. Thinking we know everything and refusing to take advice – only to realize what we thought and what is real, are vastly different. I related to her more than the others and loved her story.
My favorite stories crafted were Ash and True. However, I acknowledge that they had the ability to not really need the foundation and just exist as self contained, stand alone novellas. I was impressed with how different each storyline was and how jam packed they were with relatable high school angst. Overall, Roshani Choksi, Evelyn Skye, and Sandhya Menon delivered an emotional but rewarding happily ever after.
I loved the diversity and how well incorporated the different cultures were. Honestly, it was done through food and terms of endearment. The most realistic way for life. Haha
Overall, I recommend this to anyone that's looking to dive into the Halloween season and enjoys YA. The romance is there but it's mild and the magic is fully there and wonderful.
Overall rating: 3.75
Plot: 4.0
Character Development: 3.0
Dialogue: 4.0
Writing: 4.0
Happy Reading, 
Ash

*Thank you to Netgalley and Wednesday books for gifting me a copy of this book in exchange for an honest review*
Instagram | Goodreads | Pinterest | Twitter
Looking for some more Spooky reading?
Fantasy Ghosts with intrigue: Vespertine
Horror with a touch of psychological: Horrid
Fast paced YA thriller: None Shall Sleep
Quirky, plot driven ghost hunting: City of Bones