Gena Showalter is one of my autobuy authors and Ruthless gave me all the feels.
Ruthless is book two in Gena Showalter's Immortal Enemies Series.
#1 Heartless (Kaysar and Cookie)
2. Ruthless (Micah and Viori)
Right now, there are no hints of a book 3 but I'm really hoping for Pearl Jean to get a novel with all her sassiness and worldly knowledge. #NoSpoilers
My review below may have mild spoilers as this is book 2 in a series, so read at your own risk! *cues dramatic music*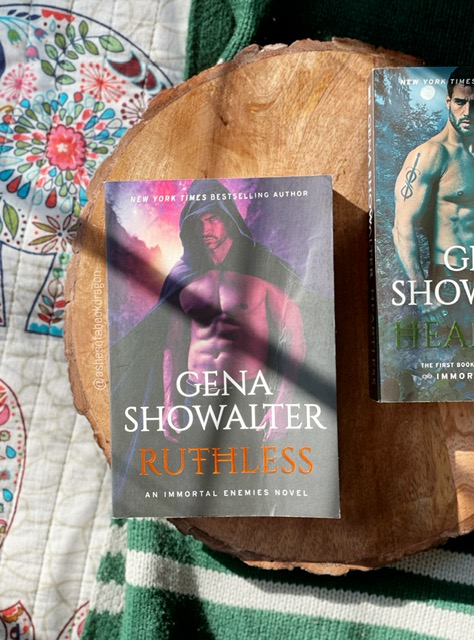 TO THE REVIEW
Micah and Viori are a wonderful enemies to lovers story that continues right after book one finishes. In expected fashion, Viori is well… just as eccentric (I'm being nice here) as her brother Kaysar when it comes to single track mindedness. LOL Micah is also just as savage as we expect but our broody man is also the best!
Micah has been rejected and shunned most of his life for his dual glamaras. Making him a rare Chimera, who's magic is constantly struggling with its nature. Due to this, other fae … simply… don't like him, fear him, and generally are terrible towards him. (Cuz they're unaccepting so and so's… I may be bias)
Viori (not to spoil too much) has had a rough childhood and been alone most of her life, save for the 'children' her glamara can create. She trusts no one and struggles to connect with anyone while hoping she can reunite with her brother.
Ruthless has some of the best banter and sassiness in its dialogue. Honestly, this is probably one of the main reasons Gena Showater is a must read for me. I adore her wit and charm when writing.
I really enjoyed how both Micah and Viori are written. They are traumatized by their past and this novel shows how they struggle to move beyond it for the people they care about. However, it doesn't sugar coat their flaws in the meantime. Again, Viori is a little psychotic and Micah is a lot untrusting and dominating.
The beauty of Gena's writing is showing how these characters meet in the middle to be there for one another. They don't change on a base level, they instead are able to adjust their idiosyncrasies to match each other's energy.
Overall, If you enjoy fantasy and romance, this book is RIGHT up your alley! It was a fun and quick read with a HEA (Happily Ever After), while leaving room for future books and couples.
Overall rating: 4.25
Plot: 4
Character Development: 4
Dialogue: 5
Writing: 4
I was gifted a copy of this book for review.
Happy Reading!
Ash