Ali Hazelwood has stolen my heart again with Love on the Brain
Mini Rundown
In case you missed the amazingness of Ali's first book The Love Hypothesis, the review is here. Her books revolve around main women characters that are in the STEM field. STEM stands for Science, Technology, Engineering, and Math. In the case of Love on the Brain, our main character, Bee, is in Neuroengineering.
Love on the Brain comes out August 23, 2022 and is a standalone novel.
I admit I went in with high expectations on this book and ALI DELIVERED.(#winning ) Ali Hazelwood has gotten even better with her writing, and I didn't think that was possible. I read this book in one sitting and then immediately read it again.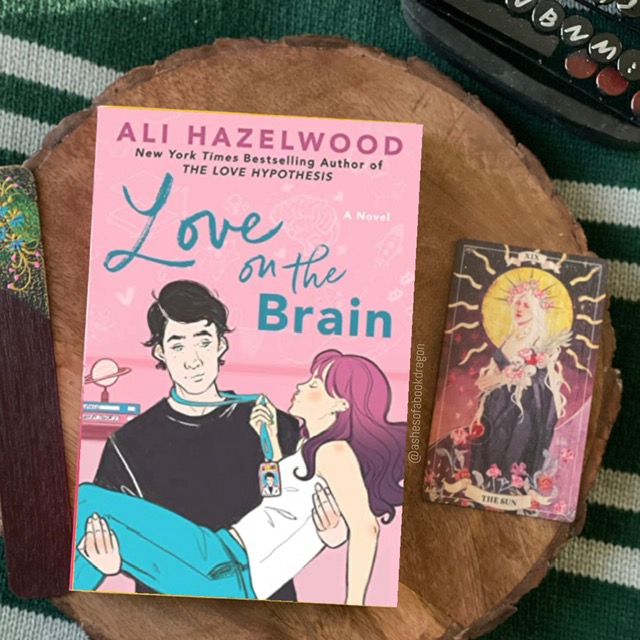 To the Review
Bee's sister, work relationships and omg the dynamic with Levi is AMAZING. All of the interactions are very well written. I do think the major improvement from Love Hypothesis to Love on the Brain is the side characters. I had moments of irritation in Love Hypothesis but the side characters in Love on the Brain are *chef's kiss*. They're a wonderful mix of hysterical, quirky, and relatable. Rocio, Bee's RA, steals the limelight in some chapters and I adore her for it. 
The trope in this one is roughly Enemies to Lovers with a dash of miscommunication and it was adorable. Levi is a phenomenal love interest and he was such a supportive person. He is the grumpy, cinnamon roll we all need in our love lives and Bee is just the eccentric woman to benefit. Also, there was something about Bee that was very relatable in how she was written. Her internal dialogue was spot on and I was here for every struggle.
Additionally, the random scientific facts that were integrated into the dialogue were pure gold. I loved learning new things and laughing with the characters for the witty banter.
Overall, I will be reading anything Ali Hazelwood writes going forward. Her fun characters, enjoyable science, and well developed plots have continued to make her an autobuy.
Overall rating: 5+
Plot: 5
Character Development: 5
Dialogue: 5
Writing: 5
Huge thank you to Edelweiss and Berkely publishing for providing me a copy of this book to read and review.
Happy Reading, 
Ash