Ali Hazelwood has made herself an auto buy author with this debut book, The Love Hypothesis.
Mini Rundown
I know that's a bold statement, stating the auto buy, but I was THAT impressed by what I read. This book starts fast and grips you from the prologue, not letting go until the end. Honestly, I didn't want to escape, I wanted more, needed more! LOL
The Love Hypothesis is a standalone novel focusing around a woman in STEM, which is amazing and is part of the reason I grabbed it. Also, it has FANTASTIC cover art that made my fandom heart happy. #IYKYK
From what I know based on the end of the book sneak peek, and the internet research – there is another book coming in 2022 titled "Love on the Brain" that is also focused around a woman in STEM and romance.
I AM HERE FOR IT ALL – please send these adorable, quirky, and awkward romances my way all day every day.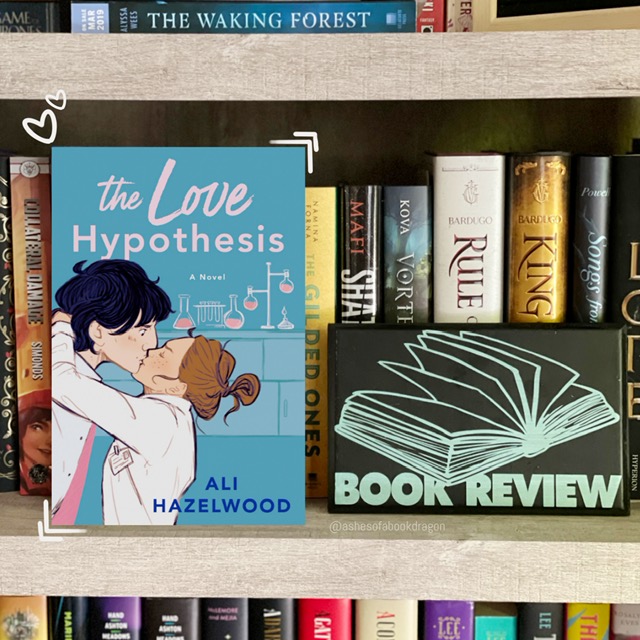 TO THE REVIEW
I love a good trope. Enemies to lovers, unrequited love, or in this case – fake dating. This trope isn't for everyone but for those of you that are skeptical, please give this a go. Ali Hazelwood does an amazing job making this a fun, comedic roller coaster of emotions. The plot is filled with amazing banter and witty characters. Hazelwood incorporates gems on integrated struggles with STEM and recognition, that are worth their weight in gold.
Ali Hazelwood's characters are so sassy and vivacious, I felt like they leapt off the page! (#SassySideCharacters ) They made this story for me. I was chuckling throughout the entire book and even re-read the last few chapters after I finished it the first time. Our main character Olive is spirited, clumsy, and sarcastic. She is driven, genuine, and sometimes infuriating but that makes her all the more relatable.
Adam Carlson is the definition of broody but not mean. Well… not mean to everyone at least. He's blunt, direct, takes no prisoners, and has a soft spot for quirky women. So pretty much, he's perfect and an amazing love interest for Olive hahaha.
Overall, If you enjoy romance in any capacity, grab this book. I honestly have no downsides to say on this novel. I may go re-read The Love Hypothesis again before the end of the month. It's a wonderful, feel good, story with the best of friends and characters.
Overall rating: 5
Plot: 4
Character Development: 5
Dialogue: 5.5
Writing: 5
Happy Reading!!
Ash

Instagram | Goodreads | Twitter | Pinterest