Emily Thiede has busted into the book scene with her debut This Vicious Grace and it's everything I never knew I wanted in a book.
First, big thank you to NetGalley and Wednesday Books for providing me a review copy of this book in exchange for an honest review.
Secondly, This Vicious Grace goes on sale June 28, 2022. I'll be honest, I've already preordered a hard copy of this one cuz it's going on my shelf. 
This Vicious Grace does seem to be book one in a new series. We do have a placeholder showing up on goodreads stating an 'Untitled' for 2023. I admit I'll be doing a countdown when the date's announced.
Also, let me take a moment to say how amazing it was to have an Italian influenced high fantasy book. I didn't realize how smooth this pairing would go but I completely credit it's seamless impact to Emily Thiede's writing and plot design.
I always do my best to do 'spoiler free' reviews but as always, go forward at your own discretion! 🙂
The Review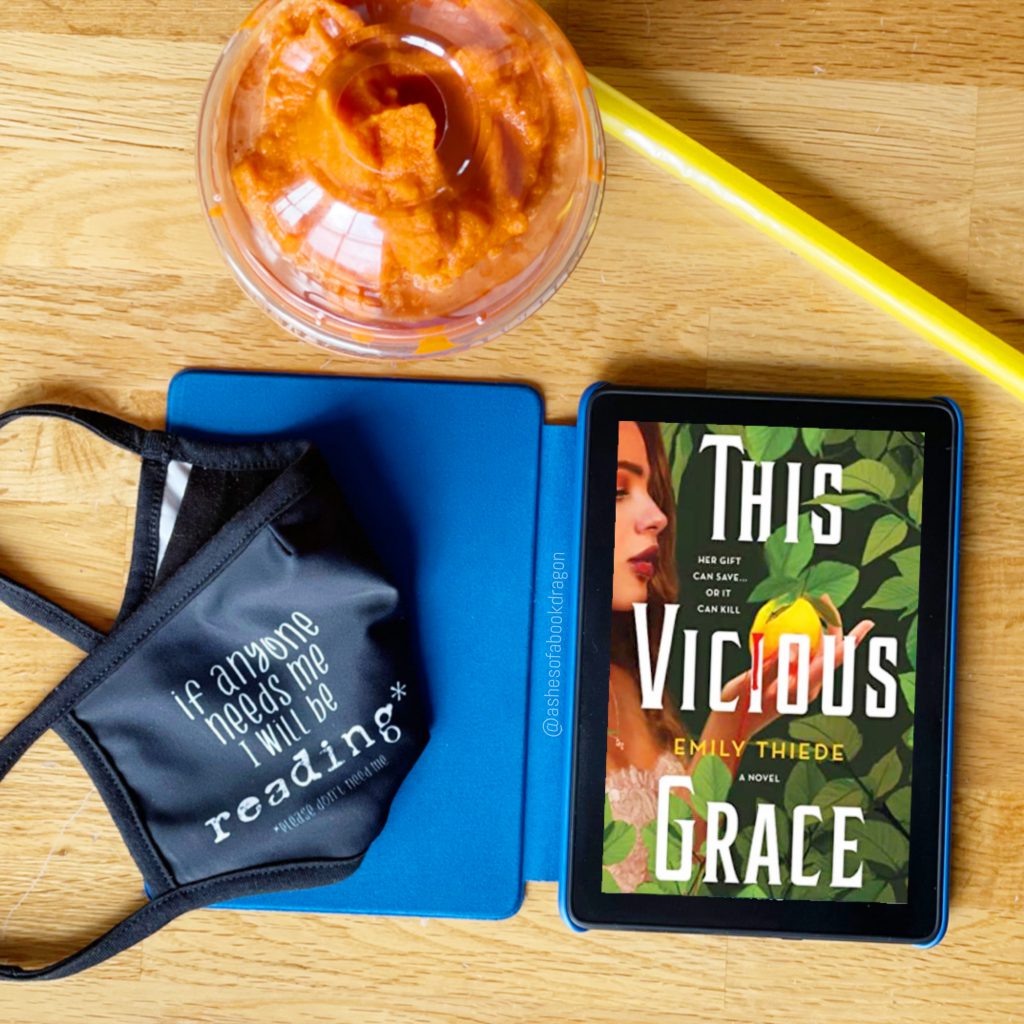 This Vicious Grace starts off strong and with fast pacing. The reader is thrown immediately into Alessa's chaotic life and gets to hold on for the ride. Additionally, the first few chapters are where the world building is the most intense, and yet it was beautifully written. The information was not 'info dumpy' and there was a lot of 'show' not just telling, which I prefer. Also, these fight scenes JUMP OFF THE PAGE. My emotions were not ready. (Note: prepare yourself for feels) 
Characters, my goodness the line up is AMAZING. Alyssa has had a weird mixture of freedom and then extreme shelter. It makes her life relatable and then tragic. She is whip smart though and the reader is able to easily relate to her thoughts and feelings. Also, let's talk the men of This Vicious Grace. Dante is our main guy and he is SO SASSY I adore him. He compliments Alessa's character so well, there is no other option for ship and this ship better sail or Emily Thiede will be receiving some notes. LOL
In Addition, the supporting characters (as we know my favorites) are well done and have fully flushed out stories of their own. I'm hoping we get a bit more information on a few of them in the next book but honestly, a good part of their personalities and back stories are already included. Also, yes these characters have some sass and especially sarcasm. Had to add that part as I know I love that in my dialogue. #TeamAllTheSassy 
Something to note, this novel does have more of a 'New Adult' feel that full 'Young adult'. There are more mature themes with the fighting, life, and yes also the romance. We get some solid new adult spice in this book. 
This Vicious Grace IS a book one. I read it, loved it, and needed more. HOWEVER, it does not end on a complete cliff hanger and that makes all the difference. I would say it's a mini cliff, but more of we're just left wanting more information and an impending sense of 'oh no, oh crap'. Not sure if that's better or worse. LOL
"The gods gave and took for their own incomprehensible reasons, and only fools tried to make sense of it."
Overall, the writing of this novel is phenomenal. If you enjoy high fantasy, intrigue, or adventure books – this is for you. The pace is perfect and the story is solid. I'm not sure I can ask for anything else more perfect.
Overall Rating: 4.75 Stars
Plot: 5 stars
Character Development: 4.5 stars
Dialogue: 4.5 stars
Writing: 5 stars 
Happy Reading!! 
~Ash