The Lowdown…..
Katrina Leno jump started my spooky season mood with Horrid.
A wonderful, atmospheric stand-alone story that left me on the edge of my seat and reading nonstop. 
First, big thank you to The Novl and Little Brown Young Readers for providing me an ARC of this novel.
Second, this book follows the adventure of Jane and her mother Ruth. Jane loses her father unexpectedly, causing them to move from their California home and life to the opposite side of the country in Maine.
While this move is jarring, it's not as jarring as the loss. Not as confusing as the mystery of the North House in Maine. Jane is ripped into a new world, life, and mystery just like her favorite author, Agatha Christie, writes so fondly of in her books. 
Soon Jane realizes there is more to her new life than what it seems.
If you're looking for a wonderful Autumn and Spooky season book, this is a great choice.
Now onto the review!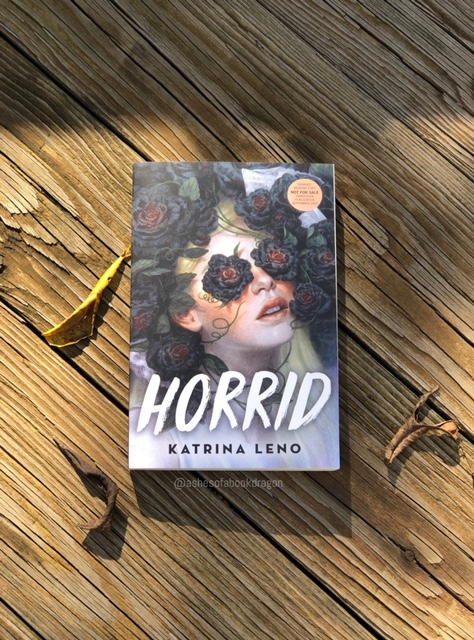 All the details… no spoils
The plot for the story hits a little close to home for me. I have lost a parent and the grieving process is unique and yet similar across the board. Reading how Jane grieves was intense, along with how her mother grieves. You are immediately swept into the story and the pain. 
Along with Jane you are confused and bereft, hoping that the next day will have more answers and be clearer. Horrid is stark in it's writing, absorbing with its characters, and provides a psychological action packed roller coaster with its plot.
Katrina Leno crafts not only a gripping novel but provides a perspective on mental illness that's rarely addressed. Horrid shows how our world, how families, can react to the term 'mental illness'. Young adult is a genre that needs more of this type of writing. Especially in regards to harder topics and concerns.
Let's be honest
If you enjoy psychological thrillers, seasonal reads, horror, or just a good story, this book is for you. Horrid sets the tone for the season and now makes me want to read more spooky reads!
Happy Reading~
Ash