Let me say I am slow to the Margaret Rogerson bus and I'm am upset this is the first novel I've read from her. This book is FANTASTIC.
First, big thank you to NetGalley and Simon&Schuster for providing my a review copy of this book in exchange for an honest review.
Secondly, Vespertine goes on sale October 5th, 2021. I'll be honest, I've already preordered a hard copy of this one cuz it's going on my shelf.
The low down
Vespertine does seem to be book one in a new series. No other books are listed quite yet but I"m ready for a whole series set in this world.
(Please and thank you)
Also, let me take a moment to rave about this book for one simple reason. CLOSURE. Margaret Rogerson gets all of my respect for writing a 'book one' novel that has it's own arc and closure. While not resorting to a cliff hanger or abrupt cut off. That simple (maybe not so simple) aspect, has escalated her to 'must read' and 'immediate buy' author.
I always do my best to do 'spoiler free' reviews but as always, go forward at your own discretion! 🙂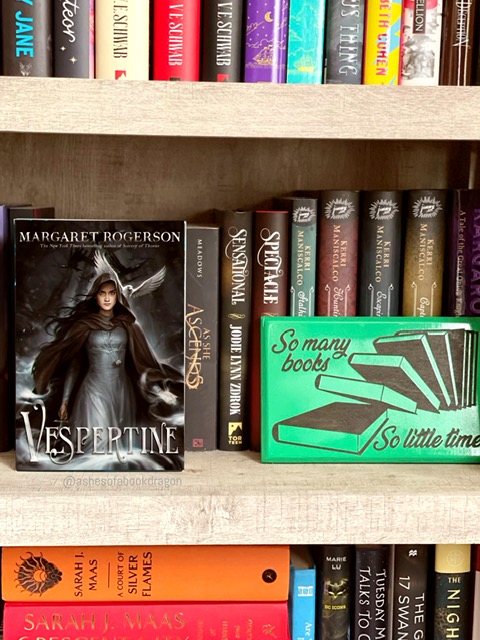 The Review
Vespertine starts off with a bang straight into the action and after that point the pacing keeps us going, while the action never stops. Spirits, Death, and a world structured around handling those in the afterlife. I was sucked in right away and dragged on this fast paced roller coaster. For all the fast paced, the development of the plot and characters is gradual and well rounded.
Speaking of characters, the main character started a tad rocky but grabbed my heart in the first few chapters. Artemisia is a vulnerable and strong heroine. One that has had a rough life but has a plan. However, that plan all goes to crap when life has other motives. Margaret Rogerson did a wonderful job creating a character that 'does what needs to be done' even if it's not intuitive and even if it's not the first or second option.
Additionally, the supporting characters (as we know my favorites) are well done and have a fully flushed out arc of their own. As expected, I have some bias towards certain characters. (#TeamDolores cuz they are all the bad@$$ I needed) OH! Also, yes these characters have some sass and especially sarcasm. Had to add that part in as I know I love that in my dialogue and characters haha.
Important Highlights
THAT BEING SAID, this is a book one. I read it, loved it, and needed more. HOWEVER, it does not end on a cliff hanger and that makes all the difference. Re-reading is definitely something that will be easy to do, with our without a book two available.
WARNING: This does have some content warnings and I'll list them below:
Self-harm, anxiety, eating disorder (mild), child neglect/abuse, trauma/PTSD. (Note: abuse is not sexual in nature)
Overall, the writing of this novel is phenomenal. If you enjoy dark fantasy, supernatural, or adventure books – this is for you. The pace is perfect and the story is solid. I'm not sure I can ask for anything else more perfect.
Overall Rating: 4.5 Stars
Plot: 4 stars
Character Development: 4.5 stars
Dialogue: 4.5 stars
Writing: 5 stars
Happy Reading!!