Little did I know that this type of thriller and true crime fiction by Ellie Marney was perfect to start the spooky season! 
The rundown
First, let me give a large and huge THANK YOU to Little Brown Young Readers and The Novl for providing me a copy of this book in exchange for an honest review.
Second, I need more books in this series.
Right now, it seems to be a stand alone and I am so hoping that we can get at least one more novel. Please, pretty please, I'm willing to rain dance for this….. I digress. 
None Shall Sleep was released September 1, 2020 and is available now in stores! If you enjoy action packed, edge of your seat, psychological thrillers, then you don't want to pass this novel up.
Onward to the review!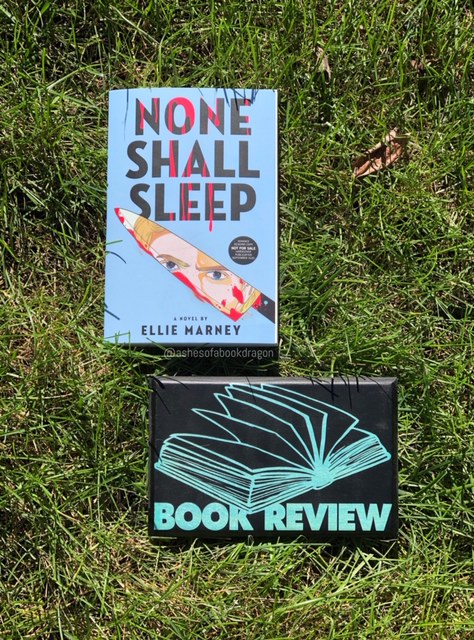 The detailed review
The plot of this book is fantastic. I would say a few parts you can predict but on the whole it keeps you engaged and moving along fabulously. Also, there are some parts that you won't guess, can't guess. Those parts are what keep you reading and keep you up past your bed time. (Unless you don't have a bed time, in which case I hope you binge read this book).
The atmosphere of None Shall Sleep is perfection. I felt like I was in the room with the intense conversations and action scenes. Every moment was able to be pictured.
The characters in None Shall Sleep are masterly developed and maintained. The amount of research and thought that Ellie Marney put into these personas is phenomenal. Emma jumps off the page for the reader. Her struggles and thought process absorb you. Simon is chilling and thrilling while also providing a charismatic bait you want to resist. You get nervous as you read the development. You know things will be glorious and terrifying but you can't look away.
But isn't this the point.
These characters need your attention, they command it. Ellie Marney has created a team of individuals that I would love to read multiple times over and in more books. (If you needed my two cents to vote for more books. Hi. This is me voting, thank you. Haha)
None Shall Sleep has provided me a YA genre I didn't realize I needed and now I need more. Now I will be greedily grabbing all the grandiose true crime fiction novels I can to match the story I found here.
Honestly, just read it
If you enjoy true crime, unsolved mysteries, or non fiction criminal psychology. I HIGHLY recommend None Shall Sleep. However, if none of those strike your fancy, I still would read this novel. The character development was that good. Worth ALL of the kudos and I hope you give it a chance.
Happy Reading~ 
Ash

Find me on Instagram too!