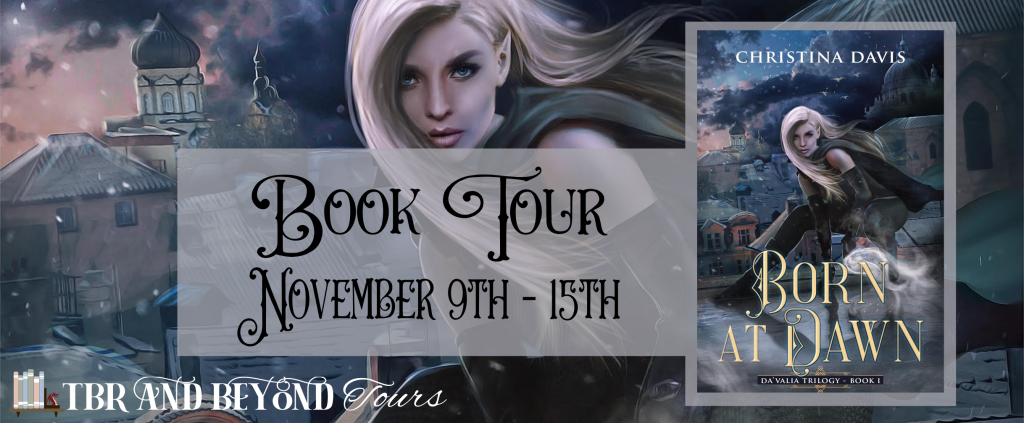 Oh Yes!! I love a good fantasy book and Christina Davis rocked it with Born at Dawn! 
First, Born at Dawn is a new first in a series Young Adult Fantasy book and goes on sale November, 15 2020!
Second, I am so honored to be part of the TBR and Beyond Tour for this novel but remember I'm only one stop! There are other blogs to see and the tour schedule can be found here, for all your insight needs. 🙂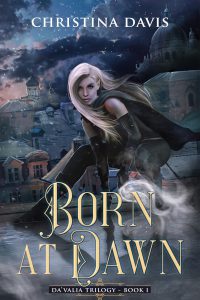 Synopsis:
When a heist goes terribly wrong and the binding spell holding 17-year-old Neva's powers at bay is shattered, the half-human thief knows she's in trouble.
Neva has always hidden her Da'Valian heritage while working risky jobs to make a name for herself and serving at her family's tavern, but she won't be able to hide much longer. She can either risk the safety of those she cares about or seek out her mother's people to gain control over her emerging powers.
The Da'Valia are beautiful, brutal creatures created by the god of war, and the austere Da'Valian soldier Astiand reluctantly agrees to take Neva to his clan under his protection. She makes unexpected friends, including the handsome fighter Emiliand, and a new enemy in the clan's ruthless leader.
Spying on her guardian, the sly heroine quickly discovers just how deep she has stumbled into a dangerous, developing clan feud.
Will she be able to embrace who she is in time to keep her loved ones safe?
Review Time!
First of all, I do love the main character Neva. She was so much fun to get to know and learn about. Shout out to Christina as honestly, all the characters in this are wonderfully developed and I'm happy we were able to get some solid backstory. (It's the little things in life…)
I was impressed that this debut novel had so much rich detail and world building. Not that it shouldn't, just that this setting is built out more intricately than expected. #writinggoals
Additionally, can we talk bout fast paced plot! I love a good pacing and though the beginning took a little bit to start (hello new book and world), once you're in it, the story took off.
Lastly, I need book two please. This is a first in a series and it was a great start! I'm hoping the next installment keeps the momentum going as the potential here is epic. 
I recommend this book to anyone that enjoys a good heist, action, or fantasy book. It checks the boxes on standards and adds a few more for fun. #funride
Overall Summary:
Overall Rating: 4 Stars
Plot: 4 Stars
Character Development: 4 Stars
Dialogue: 4 Stars
Writing: 4 Stars
HAPPY READING~~
Ash <3
Note: ~I voluntarily reviewed a complimentary copy of this book. This does not affect my opinion of the book or the content of my review.~
If you enjoyed my review and are interested in checking out the book, it can be found for purchase in the links below!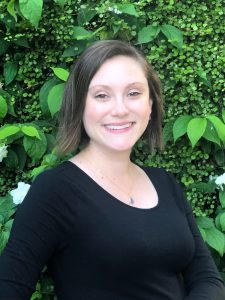 About the Author:
Christina Davis was raised in the Santa Cruz Mountains and is a California girl at heart. She spent much of her childhood in and out of hospitals and embraced reading as an escape. After being home-schooled through high school, she graduated summa cum laude from San Jose State University and attended NYU's Summer Publishing Institute before embarking on a decade-long career in journalism. She enjoys chocolate, cosplay, coffee, and board games, but not necessarily in that order. She now lives in beautiful Monterey County with her husband and daughter.
Author Links: