Donna Grant impresses me with each new release in this series, and Dragonfire is no exception. As each book is so connected with others and the plot has gotten very intricate at this stage. 
Thank you NetGalley and St.Martins for the ARC
Quick Info
If you're new to the Dark Kings series….. it's a long series and one that will take a bit to get through haha. This series is included in her Dark World universe, which also includes the Dark Warrior and Dark Sword series.

Dragonfire is book 14 in the series and for a complete list: Check out Donna's page here. 🙂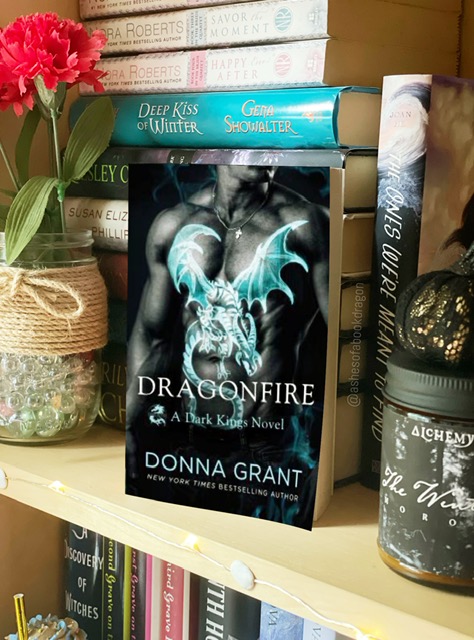 TO THE REVIEW
I really enjoyed reading about Sabina and her past and her career. We don't get many main characters that are artists in books. Additionally, her brother is awesome. I found myself wishing we got more information on him and his abilities. I'm sure he'll pop up in later books based on V's story still outstanding.
Things I liked:
The history and the flashbacks 
Sabina's backstory 
V's backstory 
Confusion had me a bit in the beginning. I wasn't sure which Dragon King Sabina was going to be with based on the plot development. Haha. Eventually it cleared up but it seemed like a 'settle in' romance as opposed to a fated mate type story. I"m not sure if that's due to how Roman was written or if it's honestly just with the different story lines going on. Also, a lot of this book revolved around V… for all it was supposed to be about Sabina and Roman. #AwkwardThirdWheel 
Dragonfire is DEEPLY connected to others. There are chapters that a reader will not understand (about reapers, about Rhi's past and her possible dragon king, about the Queen, etc…) I think that definitely took away from me trying to connect to the main characters. 
Overall, the romance was enjoyable and an easy read. However, this book is solidly 'familiar with the series' read only. I would not recommend to read this as a one off. In conclusion, if you enjoy fantasy romance – give the series a go and work you way up to this one. The overall plot of the series is worth the read!
Overall rating: 3.5 
Plot: 4
Character Development: 3
Dialogue: 4
Writing: 3
Happy Reading!!
Ash

Interested in more Donna Grant?
Check out my review of Dark Alpha's Hunger! 🙂