From Blood and Ash by Jennifer L. Armentrout has been trending all over and I admit I've slow rolled my way to it because hype can sometimes skew my expectations
Things to know~
I will be the first to say my expectations were met and exceeded.
Secondly, before going into this read be aware, this is a LARGE series (6 books) and we only have the first 3 books so far:
From Blood and Ash – #1 and this is the review for it
A Kingdom of Flesh and Fire – #2 (review pending, soon)
The Crown of Gilded Bones  – #3 released recently in  April 2021 
The War of Two Queens – COMING SOON (please and thank you) March 2022
Also, let me say these books end in cliffhangers. In some ways it feels almost like the end of a tv series and that second to last episode, edge of your seat and infuriating. Each next book picks up directly where the last one ends. Making the abrupt ends all that more upsetting. (Yes, I know my bitterness is shining through lol)
However, I do recommend this book and this series. I couldn't put this novel down and immediately went to the second book and then to the third. Reading the first two books in two days.
I always do my best to do 'spoiler free' reviews but as always, go forward at your own discretion! 🙂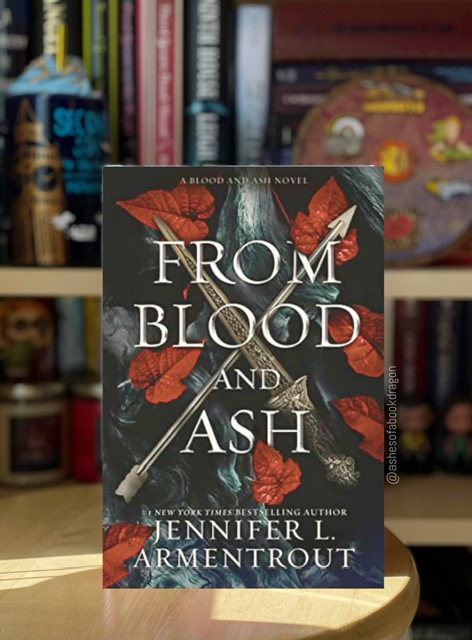 The Review
From Blood and Ash has a slow start to the plot.
I almost paused and I know I wouldn't have picked it back up, but once I hit 100 pages, there was NO consideration of stopping. The first 100 pages of a book is always a make or break for me, and I try to take into account that world building can take some time. Which was the case for this novel.
While the plot and world are amazing and well developed, I would argue that this series is character driven more than anything else. However, I do like how the magic and monster system is defined. Also, a note to the wise this book is SPICY, all caps intended. Not the spiciest I've read but definitely the romance is a large part of the story. So if you're not ready for that aspect, maybe steer clear a bit haha.
The characters in this story are interesting for sure. Poppy was a bit flat in the beginning but quickly grew on us. Once you realize that flatness is a veil, that she has secrets within secrets, and all those around her are the same. It's also interesting to realize how Poppy has been groomed from a young age and you slowly see her growth and realization. It's liberating. You cheer for her on every step.
Hawke is a sexy beast of a love interest and I have zero complaints on him EXCEPT his compliments can get repetitive. LOL. Which I guess is okay, since he's strong and supportive. Additionally, my favorite side character of this novel is Viktor. He is amazing and has been a wonderful father figure. He helped to make Poppy as strong as he could within the parameters of his control. I respect that.
WARNING that there are some content warnings and I'll list them below: Assault (strong normal and mild sexual), physical abuse, mention of rape, death, graphic gore, mention of child death
Overall, you may need to like both fantasy and romance in equal parts to enjoy this book. It is definitely a solid dose of both and if you don't like either. This is not for you. The pacing is fast after the initial introduction and it's a quick read for anyone looking for a fun book with fun themes.
Overall Rating: 4.75 Stars
Plot: 4 stars
Character Development: 5 Stars
Dialogue: 5 stars
Writing: 5 stars
Happy Reading!!
~Ash