From the summary, I had high hopes for Claire Legrand and her new novel.
But we'll get to that…..
First and foremost, thank you to Net Galley for providing an ARC in exchange for an honest review.
Secondly, I was so pumped for this book!! So excited and giddy~ The description sounded amazing and I was excited to read something being marketed as a 'Bi' positive book.
This story follows two characters that have a time difference of… 1000 years.
We have Rielle Dardenne, who risked quite a bit for love, which I respect fully cuz he was about to get owned hard. Then we have Eliana Ferracora who is living in a rough world with nothing but tales of the great Rielle.
Furyborn hits mid ground for me.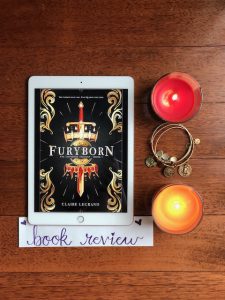 Let me start with what I loved~ I ADORED the premise, the suspenseful intrigue, and holy moly that prologue. The Prologue was SO GOOD. I was hooked after reading it, insinuating angelic wars and corrupt government. It had my favorites all over it.
And then we hit Chapter One.
I was slightly irked by the time jumps but at first I was game. Then Chapter Two time jumps again and we do that every other chapter. I'm not saying the stories there weren't interesting. HOWEVER, when reflecting back to the prologue – I wasn't involved. I knew what happened with Rielle (I mean the prologue deals with her….) and Eliana's story was less than gripping.
I felt Eliana was almost faking it to make it? However, when you're introduced to her, she's supposed to already be this awesome bad-@$$ woman. It was a little off putting. Rielle was shown more as possibly cruel in the beginning but then she's super self absorbed.
I had also heard this may be a "Bi' positive book. Buuuuut these are foot notes (if at all)…..and I would say mainly for Rielle's character as Eliana's mentions women, but I wouldn't say in away way signaling she's bi… more of sex is used for her role.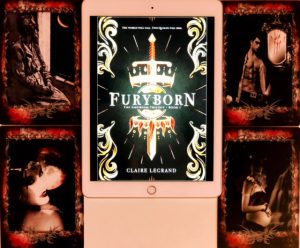 I powered through the book. It was hard, the pacing is not excellent, but I don't think it was bad. The world here is ripe for development. A lot is left hanging for me. The magic system especially!! Claire Legrand has so much to work with here and I truly hope she builds on it. I wouldn't say the book was terrible but it didn't wow me.
Overall, the world here could be so much more developed. I'm not sure if Claire Legrand is saving that for book two tho? I will probably wait to see how reviews sound for book two before reading it.
Overall Rating: 3 Stars
Plot: 4 Stars
Character Development: 2 Stars
Dialogue: 3 Stars
Writing: 3 Stars
I recommend this to anyone that likes YA fantasy and doesn't mind a slow build. It will get you there, it just takes a bit longer than most.
Happy Reading!!
~Ash