More Than Just a Pretty Face is fun, fresh, and historically enlightening!
Getting Started~  
First, thank you so much to The Novl and Little Brown Books for Young Readers for providing me a copy of "More Than Just a Pretty Face" in exchange for an honest review. 
More Than Just a Pretty Face comes out today! (8/4/2020) It's a stand alone, contemporary, young adult book that tackles intense items. It addresses growing up with cultural traditions outside the culture where you live, religion, awkward adolescent attraction, and growing up. 
Be aware: There is a trigger warning for non-consensual recording of sexual content and humiliation in this book.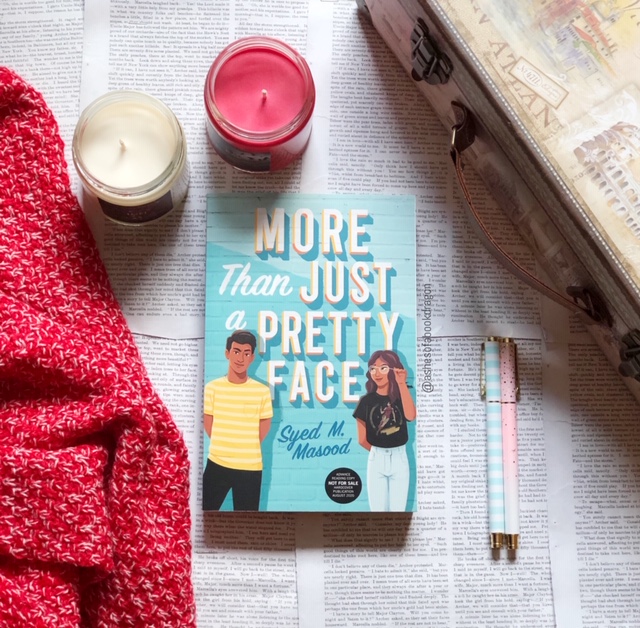 The breakdown~ 
I will start by saying I almost didn't continue with this book.
When the main character, Danyal, is introduced he is rude. Not only that, but he is objectifying as well and I was two seconds away from shutting the book and not continuing. In addition, the other character's call Danyal dumb a lot and I wanted to reach into the book in outrage all around. My feelings were clearly invested?
What kept me reading?
The side characters. (THANK YOU) Bisma saved it for me. Danyal's mother saved it for me. Danyal's friends saved it for me, especially Sohrab.
Also, the romance saved it for me. I was in the mood for a fun YA romance and this really hit that mood for me. (Yes, mood reading for the win.)
I pushed forward and started to enjoy the relationship building and the Renaissance Man competition really had my interest. Danyal's learning as he dove into this was engaging and the history that's included in this book is excellent. I would recommend reading this book for the history lesson inside alone. (Worth. Every. Bit.)
I can't speak to the Muslim representation for "More Than Just a Pretty Face" as this is not my area, nor is it something I can reasonably weigh in on. However, I will say I can see the taboo of a lot of the situations and what may cause concern. I would encourage you all to read those reviewers that are #ownvoices for this input. 
Summary~ 
I would recommend this novel to those looking for a light read and a fun summer romance book. The characters are likable (after a time *cough Danyal cough*) and you'll easily be invested in how things turn out. 
Above all, if you enjoy relevant, and intriguing history, read this book!
Happy Reading~
Ash