Kresley Cole is back in action and grabbing our hearts again with Munro.
If you are newer to the paranormal romance genre, you may not know Kresley Cole is top tier in this genre and her Immortal After Dark Series is so sassy and fantastic. Munro is book 18 (holy moly) in this series.
Munro: Release date is 01/25/2022 (next week!)
Rather than write the entire list, here is a link – right here– to a printable book list of the series that Kresley has on her site. 
Munro is NOT the last book in the series as there is already a planned 19th book AND a lot of readers, myself included, are really hoping some other characters get a novel as well.
Long Live the Ascension Sagas! #TeamNix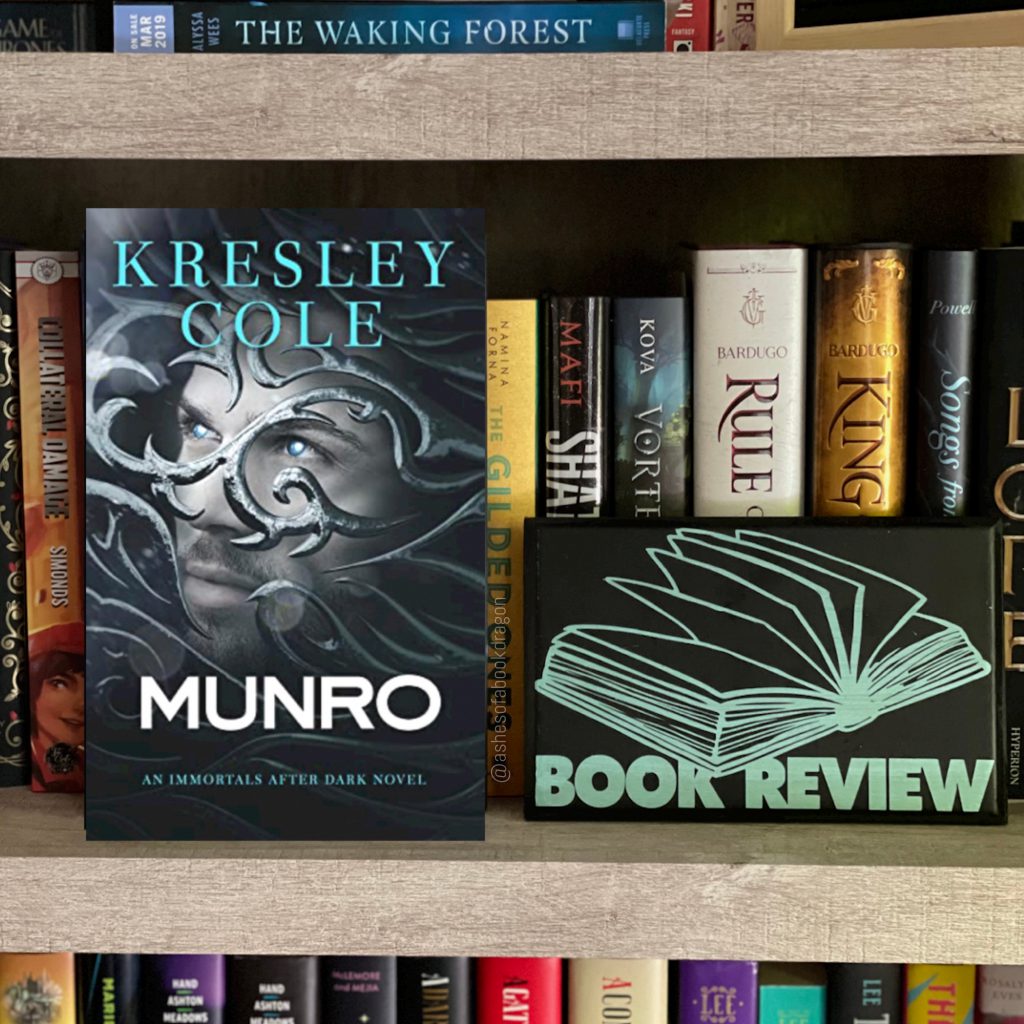 TO THE REVIEW
*Thank you to the author for an ARC of this title in exchange for an honest review* 
Diving back into the Lore feels like coming home… to the most chaotic, action packed, sassy family you would ever want. I had expectations going into this book that were probably higher than most and KRESLEY KNOCKED IT OUT OF THE PARK. This novel is everything I wanted and more. She has crafted a story that is gripping from the first page to the last word.  
Ren is a wonderfully written heroine that is fierce, passionate, and independent. Which suits Munro who is loyal, head-strong, and used to being in charge. So naturally, cue all the sparks and banter.  (Witty dialogue is Kresley's bread and butter and she delivers without fail.) Ren and Munro are both a little damaged from life and both a LOT sassy since they're so good at what they do. 
Hint… kicking butt, that's what they do. In case there was a doubt…. 
Decadent is how I describe this romance. The story builds quickly and the action hits fiercely from the beginning. I was hit in the feels almost immediately (rude) and ripped apart in the best way. The plot of this book feels like milk chocolate, starting hard but melting savory and sweet by the end. It's a beautiful addition to the series and I consumed it all in one sitting.
Overall, I recommend this book to anyone that is a lover of paranormal romance and action packed fantasy stories. I will be re-reading this soon and I can't wait to see what Kresley has planned for the next few books. Buckle up ya'll, it's going to be bumpy I'm sure. Haha 
Overall rating: 5
Plot: 5
Character Development: 5
Dialogue: 5
Writing: 5
Happy Reading!
Ash