Nadine Brandes is amazing and a love her and her books.
I realize that's a strong statement, however, full disclosure I've only read two of her books but I've adored both of them. So it's a TRUE statement… currently. 😉
First, BIG THANK YOU to Netgalley & Thomas Nelson for providing an ARC of this novel in exchange for an honest review.
Nadine Brandes is making me like historical fiction. Which is a big feat in my opinion because usually it's too dry or too slow to slog through. Now add in the fact that I LOVE RUSSIAN HISTORY, and she had be from chapter one.
Why do I love Russian History? Small random fact, I took Russian language and actually studied abroad in Moscow. I love the culture, language, and history of Russia.
"Peace, quiet, and safety are all well. But community and relationships are what truly fill a person's life." ― Nadine Brandes, Romanov
The author has done a phenomenal job of staying as close to history as she can. This is including the fact that this is a Historical fiction FANTASY book.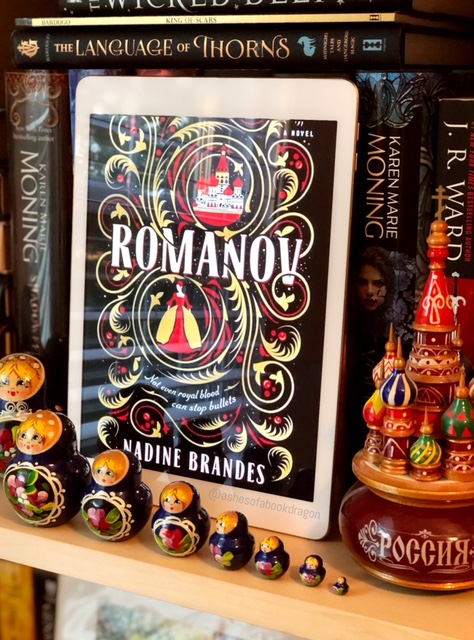 The plot for this is wonderful and keep in mind it is mixed with the history. Brandes has done a wonderful job weaving the new and known information together and making you fall in love with the time period, while of course hating the Bolshevicks. You feel the starkness of the situation and the love of the Romanov family together. She builds the foundation of the fantasy and also the history extremely well.
The characters! I'm trying to think of one character that I didn't think was well developed. I can't find a single one. Even the dogs have personality and everyone has a part to play. I have favorites of course. I loved Anastasia, Zash, Maria, and Alexi. There's another favorite character but I don't want to spoil anything. Hahaha. I fell in love with the Romanov family. You feel Anastasia's love for her father, and honestly you fall in love with him a bit too. Their loyalty and kindness to each other is inspiring.
The overall writing is phenomenal and I commend Nadine for creating something that stands on its own. By that I mean, I didn't think of the Anastasia cartoon or the Anastasia historical documentaries that I've watched before. It has excellent writing and dialogue that holds it's own and keeps you intrigued.
It is a little slower to start because the foundation needs to build but it does start to move and keep you intrigued. <3
Overall, I would recommend this book to anyone that enjoys history and fantasy. Maybe if you enjoy a little mystery as well. If you love the thrill of 'what if' I would also recommend this book to you.
Overall Rating: 4.5 Stars
Plot: 4 Stars
Character Development: 5 Stars
Dialogue: 4 Stars
Writing: 5 Stars
Happy Reading~
Ash