Natasha Preston writes quite the adventure in The Lost. It was a roller coaster of events! 
First, this book is a standalone and is not a series. It's a young adult thriller with lots of action and twists. If you're looking for a read that is quick and fun, give it a go!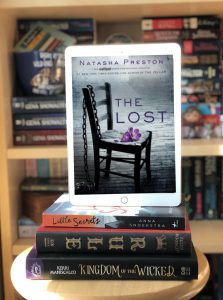 Author: Natasha Preston 
Synopsis : In the small town of Aurora, teens go missing all the time. But when one of Piper and Hazel's classmates disappears, they become determined to find out the truth of what happened to her.
While investigating, they meet three handsome and rich grad students…who kidnap them. The girls are taken to a building in the middle of a privately-owned forest. The building isn't just designed to keep them locked away—every room is a test in survival. And Piper and Hazel won't give up without a fight.
Now for the Review!
The main character, Piper, is relatable if a bit….slow on the pick up? (aka she ignores all instinct and that's rough haha) Initially, I was skeptical of her development but I really did enjoy her perspective and attack on the situation. Hazel however, drove me up the wall with her pessimism. Which I can understand but at some point it's like a brick wall of 'Again'? Overall, the dynamic between the characters is well done. The ending chapters specifically had excellent points of view and insight.
The plot is definitely for fans of thrillers or true crime. Natasha Preston's writing gave me 'Saw' vibes but toned down a tad for YA. (Not by much though honestly) The world was well written and enjoyable to read. There were predictable moments but it was a fresh take on this type of genre. 
THE ENDING. How dare you Natasha Preston. How rude. haha
I don't want to spoil but I will say the closure for me wasn't a hit haha. I wished the book had ended just a chapter earlier. That last chapter didn't need to happen, but that's my opinion. I know a few readers who would enjoy this type of send off but, for me it's just not a full happy. haha 
Overall Summary:
Overall Rating: 3.25
Plot: 3.0
Character Development: 3.0
Dialogue: 3.0
Writing: 4.0
HAPPY READING~~ 
Ash <3
~I voluntarily reviewed a complimentary copy of this book. This does not affect my opinion of the book or the content of my review.~ 
P.S. Want more insight? Here are more reviews! 🙂