Round of applause for Jeffe Kennedy! 
Happy Release Day to The Orchid Throne! What a way to kick off a series. (#strongstart)
First things first, big thank you to St. Martin's (& NetGalley) for providing me a copy of this book in exchange for an honest review.
**PSST**
Real Quick… before we go further~
Check out my instagram for a special event in relation to this book
(GO GO GO! Only open for 24 hours!!)
The Orchid Throne is BOOK ONE in a new series and it looks like it may be a trilogy so far. Book two comes out in 2020, and Book three the year after. So before you start reading, keep in mind that you'll have partial closure, not full closure.
My review will NOT have spoilers, so it may be a tad vague to prevent any hard hints.

Now for a quick official summary: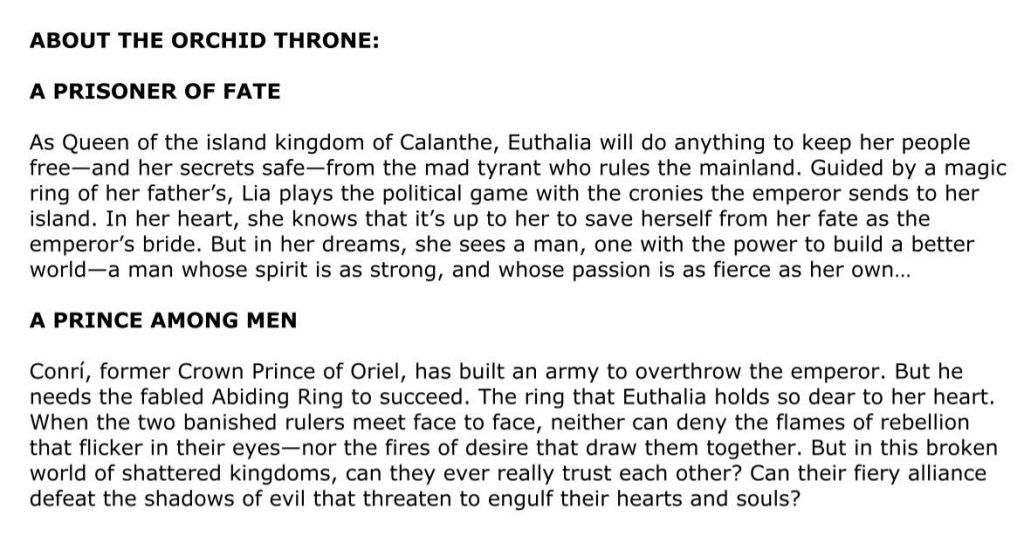 Let's talk plot and world building real quick, as this is book one in a new series. Honestly, I always expect a little bit of slowness for a new book world. It's something I account for and allow for when reading. So it does take a tad bit of time for Jeffe Kennedy to get things in order. (You need a good foundation to get good development.) However, once it's in place things start to move quickly and the story really gets going!
I will say this tends to be more fantasy than romance, and the language and descriptions really show that. hahaha That is to say, fantasy authors do like to be descriptive, and Jeffe Kennedy is all in for this. She does a wonderful job of crafting the scene, and for me it helped immerse me in the world.
CHARACTERS~ Get it Euthalia!! *clap clap* I like a strong lead. Can we talk about how I adore characters that aren't idiots? I know I've said it a few times here, but I will always enjoy reading main characters that think things through. Also, Conri made me smile. It's always nice to smile when a character shows up and you just genuinely enjoy them. For me this book was mainly character driven and I loved that.
We have some good side characters in this series as well. I won't spoil things but as you know, side characters can make or break a story for me!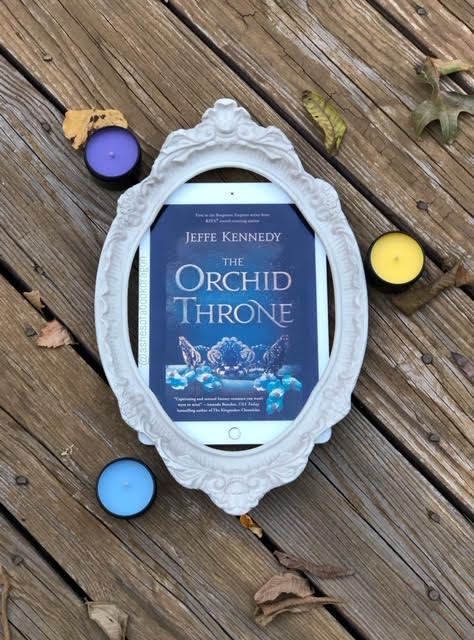 Jeffe Kennedy's writing for this book is expressive, I do think the first few chapters will be hard for a lot of audiences, but if you stick with it and give it a chance, you will love the pacing.
The world is unique and I am looking forward to book two! (#INeedAnswers) I wouldn't say the ending was a huge cliff (IMO) but the story gives enough HINTS to make us desperately want more information and closure.
Overall, I think if you enjoy Fantasy and Romance, you'll enjoy this book. It does have ADULT romance at that. It's more towards the end and for me it kind of took me by surprise. LOL! So keep in mind the book is for adults, and does have sexy times!
Overall Rating: 4.0 Stars
Plot: 4 Stars
Character Development: 4 Stars
Dialogue: 4 Stars
Writing: 4 Stars
Jeffe Kennedy was a new author to me, so in honor of that, I challenge you to also read a new author in October! (Maybe even this book if you like)
Happy Reading!!
Ash~