Can I get two thumbs way up for Meredith Tate and her awesomeness? I enjoyed this book a lot.
The Red Labyrinth is a new release that came out June 4th, and is a wonderful CURRENTLY stand-alone story. I say 'currently' as the author has stated they'd love to write a sequel or even make this into a Trilogy.
*Thank you to Netgalley and Flux publishing for providing this book in exchange for an honest review*
The Red Labyrinth follows the story of a Zadie Kalver, who is a Blank. Blanks have no skills (magic) and they are seen as less than useful (and as people) in her small city. A city that has a Labyrinth next to it, that no one comes back from whole. If they come back at all.
So naturally our heroine has to do the one thing no one would ever recommend. Go into the Labyrinth.
Full disclosure, I love mazes and labyrinths. I read Maze Runner (not my fav personally) and I own the 80s movie Labyrinth (that IS my fav…). However, I will say this novel stands on its own very well without all my bias towards puzzles.
TO THE REVIEW!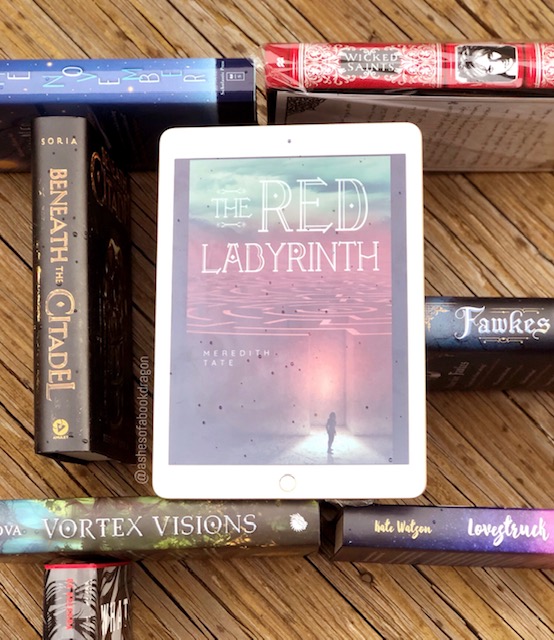 As far as plot, this novel starts very strong. This book gave me a good dose of dystopian atmosphere and bleak outlook. The world is developed quickly and efficiently, and the pacing was excellent. I actually flew through the first half of the book in roughly one sitting. Meredith Tate does an excellent job pulling you into her world and keeping you there to discover all the characters and random clues to the overall plot. I WILL say, I was irked by the ending. Know this is currently only ONE book and not a second book planned. It's a really big cliff hanger and I didn't get closure. So I did leave the book unsatisfied. #beingtruthful
However, I loved the characters! Zadie is a great strong lead for the first 85% of the book and then I feel like she was mentally checked out at the end almost. (#nospoils) Landon is an interesting foil to Zadie. He's shown as being raised in a similar situation but with all the advantages, and it really highlights how Zadie turns out the way she does. Not only that, I feel the writer gives us feeling that while Zadie cares for him, there is always that spot of resentment. It's an interesting dynamic and I enjoyed it. As for Dex, I really enjoyed learning about our mysterious entity in the labyrinth. He was wonderfully complex and I hope we get a book two so we can learn more of his story.
Meredith Tate writes some amazing dialogue. She made me smile, smirk, and glare at the pages depending on the situation and her writing grips you and holds you till the end. The dialogue between the entities in the Labyrinth and the main characters made the book for me. The relationship of the characters made the story. I do really hope that we can get a book two and three as this story is pretty unfinished, at least to me.
Overall, I recommend this book to anyone that enjoys puzzles and fantasy books. The read was fantastic and the pacing was excellent. Yes, it does end on a cliff hanger but that doesn't take away from the amazing writing and world created.
Overall Rating: 3.5 Stars
Plot: 3 Stars
Character Development: 3 Stars
Dialogue: 4 Stars
Writing: 4 Stars
Happy summer reading!!
~Ash