Victoria Schwab rocks it again with Cassidy Blake! Adult to middle grade, I can't stop reading her books.
Tunnel of Bones is book two in her Cassidy Blake series and it is a wonderful addition. In case you're late to the game:
City of Ghosts, Book one, released August 2018.
Tunnel of Bones, Book two, released September 2019.
Bridge of Souls, Book three, tentative release of 2020.
A part of me hopes that it has a solid story arc of three books, where as another part of me wants Cassidy to keep exploring indefinitely. haha
Tunnel of Bones starts pretty much after events of book one and we're off to a new city! From Scotland to France.
Can you guess what could be haunted in France? I'll give you a clue….pretty much the whole of Paris. #catacombs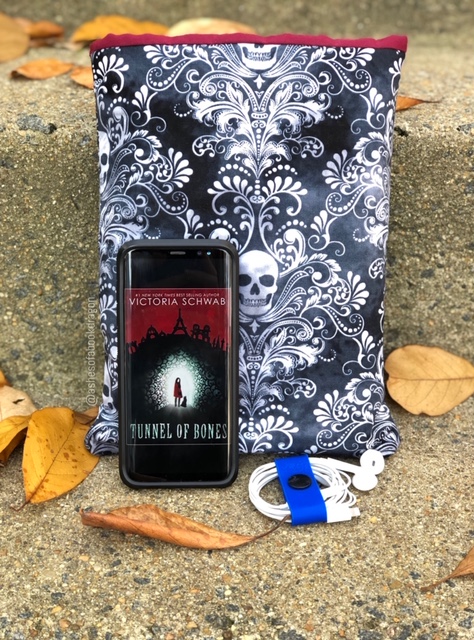 Victoria Schwab is an excellent writer and Tunnel of Bones is a wonderful example of her skill. Cassidy Blake's story pulls you in immediately and you're with her through all her struggles. Her family still believes in ghosts, but not really in her seeing them. (go figure) Her friendships continue to grow in this novel and she gains more allies.
We also have learned of new things. Jacob, her BFF and ghost savior, has secrets. Her new best friend, Lara, is still assisting and also speaks of a mysterious group of people. (#shhhhnospoils) Honestly, I enjoyed book two as much, if not more, than book one. Victoria Schwab builds this story so well and with so much creep factor.
I love ghost stories. I grew up with them from a young age. (Probably not a great thing… haha). I watch all scary movies I can and love visiting haunted locations. (Within reason, some locations I refuse to go to… cuz creepy). Tunnel of Bones IS creepy, but not too creepy. The main ghost is well made and gives the reader goosebumps while reading.
Cassidy's character has grown quite a bit from book one to book two. She's still sharp as a tack and easy to love though. Her best buddy Jacob is also growing with her. I'm not sure where book three will take us. As new story lines were introduced in this book, and we have no idea it'll go.
If you enjoyed book one, book two is a must read.
If this series is new to you but you love scary, give it a go!
I did read this one as an audio book as well. The narrator did a great job on book one also I tried book two in the same format. Still a quick 5 hour audio book, and 304 page read.
ALSO, I know a bunch of people are saving for the holidays. Keep in mind, you can always grab the audio, ebook, or physical book from the library. This also helps support authors. If you have a library card, keep in mind apps such as Libby and Hoopla.
Libby & Hoopla both provide audio books and ebooks based on your library.
No, I'm not paid to promote for them but I do have a budget like everyone else. 🙂 Sometimes I have to go 'no spend' and get books how I can.
I'm not sure what Cassidy Blake has in store for us next but if that CLIFF HANGER was anything to go by, I'll need to buckle up. For a middle grade book, this sure is gripping and scary. I love it.
Overall Rating: 4 Stars
Plot: 4 Stars
Character Development: 4 Stars
Dialogue: 4 Stars
Writing: 4 Stars
Happy Reading!!
~Ash