Jay Kristoff and Amie Kaufman you have wrecked me yet again.
Also, big THANK YOU to Net Galley and Knopf Publishing for providing me an advanced copy of this book to read and review. You all are amazing and make wishes come true. 
Let me start by saying that this is BOOK TWO in a series. The Aurora Series to be exact, and it's worth every moment of adventure.
Book One: Aurora Rising – My review here
Book Two: Aurora Burning – THIS REVIEW 
Book Three: Publish Date TBD but WOOOO buddy I'm now here for it because this book sure did set some high expectations. I digress. 
I'll try to be as spoiler free as possible but seeing as it's second book in a series, I may have some hints to the first book. So if you haven't read book one, here are some initial 'non spoiler' thoughts.
Aurora Burning is amazingly action packed.
There is no slow button, we have one speed, and it's full speed with the audience holding on to their butts the whole way.
Emotional attachment to every character seems to be involuntary.
You will get wrecked, you will have feels, and you will experience a cliff hanger of epic proportions.
Alright, that's it for the non spoiler info. haha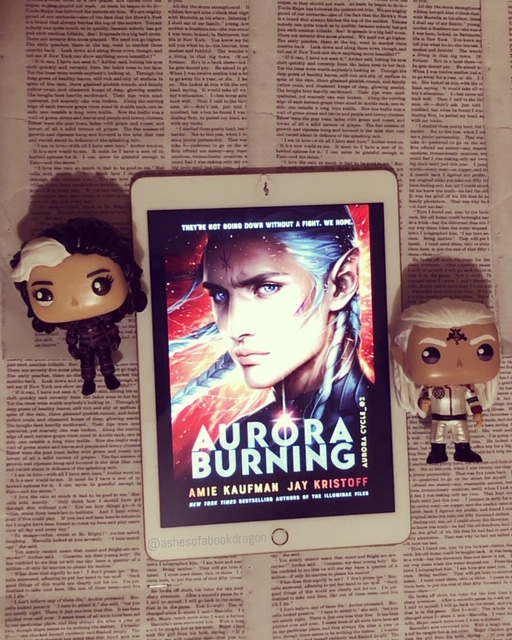 Honestly I expected book two to be slower than book one. That didn't happen for me though. Maybe the first two chapters had a bit of a build but after that there was no slow. The plot on this was compiled of past information and new knowledge. It also comprised a lot of character development, which is a big thing in my opinion.
Characters that got to shine this book are Zila, Fin, and Kal. Zila was unexpected and my whole heart is now invested in her. Additionally, Fin continues to grow on me. He is such an excellent character. His humor and strive to survive makes me root for him no matter the circumstance.
Then there is Kal.
Kal has seen some things and has had a rough time of it. If you adored him before, I'm sure you'll love him even more now. His background is described a bit more, #nospoilers , it's rough. Then again, all the characters are rough. This is why we love them.
I wish I had book three right now. Waiting for me. Ready to read and find closure. This is not the case though. This novel ends on a cliff hanger and I'm not okay about it. Not in the 'upset' way but more the 'My Chemical Romance emo song' way.
If you enjoyed book one, I'm guarantee book two will grab you and yank you along like a roller coaster. It has that minor slow build of traveling up to the first drop, but once it hits – there's no slowing until the book ends.
HIGHLY recommend this series. Especially if you enjoy fantasy and space. Also, if you enjoy action and heists. Really, just give it a go and let me know. Send me messages complaining the whole time if you need to – I'm here for it. haha 
~Happy Reading Ash 

Follow me on Insta